Red Tail Hawk Mural by Petrus Boots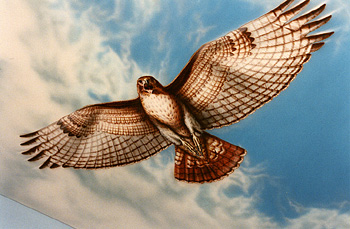 Mouse over image for alternate view.
Click on image to view larger image.
Commission †
Ceiling Mural
For inquiries regarding
commissions & estimates,
please contact artist directly at:
art@artunseen.com
Medium
Airbrushed Acrylic on Gypsum Board
~
www.artunseen.com
art@artunseen.com
---
This example of a bedroom ceiling mural was commissioned some time ago but remains a favorite of mine. It was produced in a rather awkward position considering gravity and the open paint cup on the air-brush. I guess you could say I laid down on this job, literally, for it was painted while I laid on my back upon a movable scaffold.
---
Should this or any of the other examples of commissioned work be of interest to you, please phone, email or visit us with ideas in what interests you and we will provide you with a free image mock up and estimate. For gallery location, printable map, hours and a comprehensive list of contact points visit the contacts page of this site.
---
Art Unseen Home ~ Petrus Boots ~ facebook ~ Art Unseen Store ~ What's New ~ Commissions ~ Bios ~ Gallery Tour ~ Contact ~ Purpose ~ Links
All Major Credit Cards Accepted

Except for individual private use, all rights reserved Copyright © 2000 ~ 2014 by Petrus H. Boots unless otherwise stated.

This site is built and maintained by Art Unseen

---